Candy Star
2.4.133
Puzzle Game – Match Candies to Solve Puzzles
Are you a fan of matching games like Candy Crush Saga? If yes, then you will find this puzzle game to your liking. Candy Star is a nice game in which you have to remove candies from the board by matching 2 or more candies of the same color. It lets you solve puzzles by letting you match candies in pairs of two or more. You just need to tap on candies twice to match them if they are placed alongside each other on the board. As you remove the candies, no new candies will replace them. Your goal is to remove all the candies, leaving none of them on the board. You will be awarded points for each match you make. However, you will be docked points if you leave unpaired candies behind.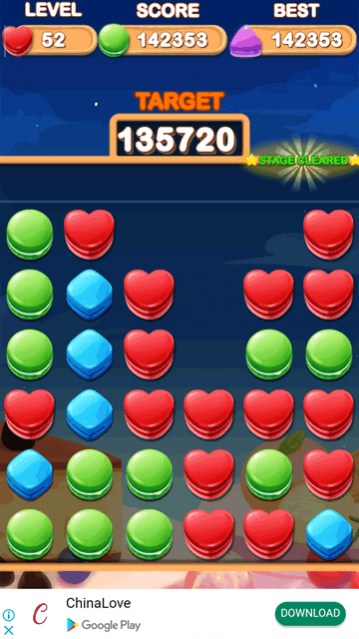 Candy Star has smooth gameplay that combines well with its nice graphics. Although this puzzle game might appear similar to other matching games, it is quite different from them. For instance, you don't have to match 3 or more candies in this game to remove them from the board. You only need to find two candies of the same color located side-by-side to form a match. There are various colors and sizes of candies available. You need to be careful when making matches, though. If you aren't careful and leave a candy behind then you will lose points. These points are crucial for you as they are needed to achieve the target score assigned to you. You won't be able to progress further in the game if you fall short of the target.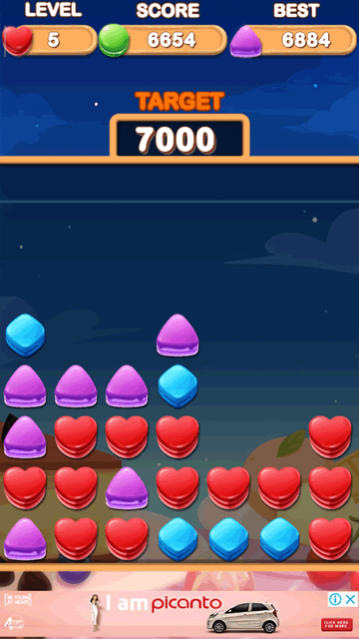 This puzzle game does not have a time or move limit. So, you can take your time when creating matches. Also, there are an unlimited number of levels available. Thus, you can continue playing until you fail to achieve the target. When matching candies, you should try to match several candies at once. This will provide you two benefits. First, it will give you more points. Secondly, it will clear the board quickly and allow you to match the remaining candies easily. However, there is one thing you need to keep in mind. When making a big match, make sure that all candies of a single color are matched in it. If a few of them will be left behind then matching them would be very difficult.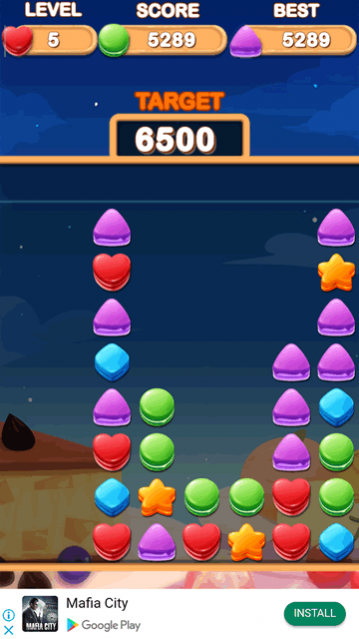 Candy Star provides three different levels of difficulty for you. These difficulty levels are Easy, Medium, and Hard. As its name suggests, the Easy level is the easiest of the three. The levels in this difficulty mode are simple and there aren't many types of candies that you have to match. It is the ideal mode for new players who are learning to play the game. After you have mastered this difficult mode, you should try the Medium mode. This one offers slightly more types of candies. You will have to match candies very carefully in this mode to achieve your target score. The Hard difficulty mode is only for pros and you should try it after having mastered the Medium difficulty mode.
Features:
Lots of challenging levels to complete
Match 2 or more same-colored candies to remove them
Gain points for matching candies
Achieve the target score assigned to you
Pair all the candies and not leave any behind
Multiple difficulty levels on offer
Unlimited number of levels
No time limit applied
Conclusion:
Candy Star is a gaming app that is marketed towards people who love solving puzzles and like playing matching games. It provides you the opportunity to solve puzzles by matching same-colored candies in pairs of two or more. It is a puzzle game worth having on your phone that is sure to keep you entertained for hours on end.
---
Add a review
Tell us your experience with
Candy Star
2.4.133
RELATED PROGRAMS
Our Recommendations
---
---
---
---